Treating Hot Flushes with Blood Pressure Drugs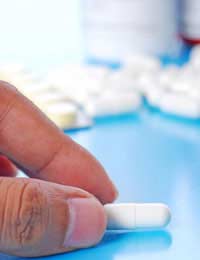 For many women who are experiencing menopause, hot flushes are one of the most frustrating menopause symptoms to treat. Not only are they unpredictable and physically uncomfortable, but also they can be quite embarrassing when they hit during a meeting at work, for instance. Finding an effective way to treat hot flushes is important for ensuring a smooth menopause transition that allows you to function well each day.
There are a number of treatments available for addressing the challenges of hot flushes, but a newer one that may be of interest is a treatment that was originally created for dealing with high blood pressure. Clonidine is a drug that is an adrenergic agent, which means that it reduces vascular activity in the body and successfully treats high blood pressure – known as hypertension. For women experiencing menopause, it has also shown success in helping to reduce hot flushes. To understand how it affects hot flushes, however, you need to know a bit about how hot flushes occur in a woman's body.
Understanding Hot Flushes
Hot flushes – also known as hot flashes – are very sudden and intense heat waves that a woman experiences during the menopausal transition. They come sometimes leave a woman's face quite red and hot and intense sweating may also accompany hot flushes. In addition, a woman's blood pressure can rise. Also, hot flushes can last for only a few seconds or they can continue for a few minutes.
For some women who are just beginning to experience changing hormones, hot flushes and raised blood pressure may even occur very frequently – with several occurring in only an hour. The hot flushes and raised blood pressure can occur at any time, which is one of the reasons that women can struggle with them so much.
Using Clonidine for Hot Flushes and Women's Health
Taken in pill or patch form, Clonidine may help you obtain relief from your hot flushes. There have been several studies on the effect of Clonidine for treating hot flushes, but these have shown different results. A large study looked at postmenopausal women and found that after four weeks of treatment, there was a significant decrease in hot flushes experienced by women taking the drug. After eight weeks of taking the drug, there was further improvement, although it was comparatively small. Women taking Clonidine and experiencing this reduction in hot flushes also cited improved quality of life from taking the drug.
Side Effects of Taking Clonidine for Menopause
There were some side effects that women experienced when taking the drug. Common ones were:
Dizziness
Dry mouth
Constipation
Drowsiness
For some women, these side effects from the blood pressure drug weren't too uncomfortable but for others, they prevented the drug from being acceptable as a treatment for hot flushes during menopause. Some women also found that it made sleeping problematic, which may further limit how useful this blood pressure drug can be for treating hot flushes.
Choosing the Best Treatment for Hot Flushes and Women's Health
Clonidine is only one of many treatments available for addressing the frustrating hot flushes and increased blood pressure that are commonly experienced during the menopausal transition. There are other prescription treatments such as Hormone Replacement Therapy (HRT), although HRT does carry significant risks for women's health. Other alternative treatments such as soy supplements can also be considered if you prefer a more natural kind of treatment for your hot flushes.
Whatever you choose, speak to your doctor first to ensure you are well-versed in all of the available options for your hot flushes during menopause. Hopefully, you can find a successful treatment that eases your hot flushes and lets you get back to feeling like your normal self.
You might also like...
Debbie - Your Question:
Hi I had breast cancer grade 3 stage 3 five years ago and had my ovaries taken out at the same time, I was 44 at the time. I'm still cancer free at this stage but the hot flushes just get worse and are causing my life to be really miserable, my friend has started taking clonidine and its helped her hot flushes tremendously, could you tell me if clinicians contains any oestrogen as I know under no circumstances am I to take any. Any advice would be very much appreciated as I really am desperate Many Thanks Debbie
---
Our Response:
We cannot give individual medical advice like this unfortunately. Your GP or consultant, should be the only ones to give advice on this kind of thing.
MenopauseExpert
- 6-Aug-15 @ 12:53 PM
Hi I had breast cancer grade 3 stage 3 five years ago and had my ovaries taken out at the same time, I was 44 at the time. I'm still cancer free at this stage but the hot flushes just get worse and are causing my life to be really miserable, my friend has started taking clonidine and its helped her hot flushes tremendously, could you tell me if clinicians contains any oestrogen as I know under no circumstances am I to take any . Any advice would be very much appreciated as I really am desperate Many Thanks Debbie
Debbie
- 6-Aug-15 @ 7:42 AM