Progesterone Replacement Therapy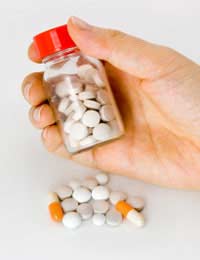 Hormone Replacement Therapy (HRT) is a treatment you may have already heard about in the media or through menopausal friends and family who have considered taking the treatment or have personal experience with this hormone therapy. Before choosing to take HRT, however, it's important to look at how the treatment works and whether the benefits outweigh the risks for treating your menopause symptoms.
For the most part, the typical woman who chooses HRT will take a combination oestrogen-progestogen therapy or an oestrogen-only treatment. It is a minority who will decide to use progestogen-only therapy to replace the loss in progesterone during the menopausal transition. Generally, progestogen provides excellent relief and treatment for women who suffer from hot flushes as a menopause symptom.
Some women are unable to take an oestrogen replacement therapy due to their health conditions or risk factors. Others simply want a treatment that does not include oestrogen. However, if therapy is only with progestogen, then women will not attain the benefits of hormone replacement therapy that includes oestrogen. These benefits range from bone support and reduced risk of osteoporosis to relief of many other menopause symptoms. Oestrogen is also thought to provide psychological benefits such as improved moods, which are not provided with progestogen-only therapy.
What is HRT?
HRT was developed to replace the hormones that a woman's body loses due to the menopausal transition. The hormones that can be replaced include oestrogen, progesterone or both. The progesterone used is a synthetic form called progestogen – also known as progestin. The female bodily readily accepts this form and absorbs it quite well.
Who Shouldn't Take Progestogen?
While progestogen has its benefits, there are a number of reasons why a woman would not want to take this hormonal therapy. If a woman has a strong family history of certain cancers such as breast cancer, she may decide that the risks of progestogen-only therapy outweigh any benefits.
An individual who has a family history of blood clots or heart disease may also feel that these risks are enough to warrant choosing an alternate form of treatment for menopause symptoms and women's health. There are also a number of co-existing conditions that would be inadvisable to use hormone therapies, so you should speak at length with your doctor about your health, personal risks and the appropriateness of progestogen for treating your menopause symptoms.
Side Effects of Progestogen Therapy
There are many side effects that can occur from progestogen-only therapy but some women find that these will ease as they continue to take the hormone. If the side effects persist, you can always speak to your doctor about another medium for taking the drug or switching to a more appropriate treatment for your menopause symptoms. Common side effects from progestogen therapy include:
Vaginal bleeding
Nausea and gastrointestinal complaints
Cramping
Tender breasts
Hair loss
As mentioned, these side effects can be more noticeable in the beginning of treatment but may ease later on when you continue treatment. Other side effects that are considered serious but uncommon are:
Intense headaches
Chest or leg pain
Visual disturbances
Dizziness and fainting
Breast lumps
Natural Progesterone Treatments for Better Women's Health
Some women decide to use a natural progesterone topical treatment, which they find helpful during menopause. Those women who want some of the benefits of progesterone in a natural progesterone product may want to avoid the synthetic progestogen pills. You will, however, need to read label ingredients carefully to check for an adequate concentration of progesterone. You should also follow directions according to the manufacturer to ensure the best outcome of the progesterone product.
Choosing the Right Treatment for Menopause Symptoms and Women's Health
It's no easy task to weigh all of the options for treating your menopause symptoms. In one sense, women today are fortunate to have more options than their mothers and grandmothers. However, it requires more awareness and understanding of the risks and benefits of each treatment.
While progestogen-only therapy is an uncommon approach to menopause treatment, it may be right for you if you have physical or personal reasons that contrast with the treatment. Speak to your doctor about how this treatment can work for you and be confident that you are making a decision based on facts and a thorough knowledge of how the therapy works to treat menopause symptoms.
You might also like...