HRT and Ovarian Cancer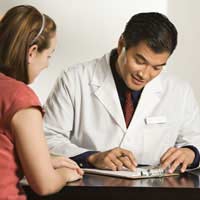 Ovarian cancer remains a rare form of cancer but it is still a very deadly one. This is one of many reasons why finding out the factors that contribute to it remains critical to reducing the morbidity and mortality of the disease.
Studies of HRT and Ovarian Cancer Risk
In women who are taking hormone replacement therapy (HRT), studies suggest that the risk of ovarian cancer is higher. HRT is generally used to treat the symptoms of menopause such as hot flushes, mood swings and others.
It was already known years ago that HRT raised the risk of breast cancer. It also increases the likelihood that if a woman has lung cancer, HRT raises her risk of dying from the disease. We do not know exactly how and why ovarian cancer develops, but it is thought that oestrogen could trigger the growth of tumours. It is a disease that is challenging to detect and is often only found when it has spread, which makes it a very lethal disease.
Ovarian Cancer Risk Reduced After HRT Stopped
For the purposes of one recent study, researchers found a particularly heightened risk of ovarian cancer. The study also monitored the effects after HRT was halted. They found that the risk of ovarian cancer went down once women stopped taking the hormonal treatments.
It took approximately four years following treatment for the risk of ovarian cancer to go back to the normal level for a woman of the same age. These results support an earlier 2002 study that was stopped early because it found a heightened risk of breast cancer, ovarian cancer, stroke and other health conditions from the use of HRT.
Criticisms of the Research
Ovarian cancer still remains a very rare disease. Its lethality, however, makes it crucial that any controllable factors for a heightened risk are identified and steps taken to help protect women. This is true more so because we have no control over genetic factors and it does appear to have an inherited component.
It is important to note, however, that the results were not adjusted to take into account this genetic and familial history, nor whether or not a woman had used oral contraceptives in the past. This may have affected the reliability of the results and further studies are planned to rule out such factors.
Evaluating Your Risk of Ovarian Cancer from HRT
Even though HRT showed a forty percent raised risk of ovarian cancer, a woman still has a relatively low risk of developing ovarian cancer during her lifetime. The researchers still went on to conclude that HRT has its place in treating menopause symptoms, particularly for women who suffer from very severe ones.
Taking a Balanced Approach
While the risks should be considered, this does not mean that HRT should be avoided for all women. For some women, the benefits will outweigh the risks. In particular, women who are experiencing premature menopause or moderate to very severe menopause symptoms may still be excellent candidates for HRT. If you are experiencing menopause symptoms, you should talk to your doctor about whether HRT is right for your menopause symptoms.
You might also like...