Products for Sexual Symptoms of Menopause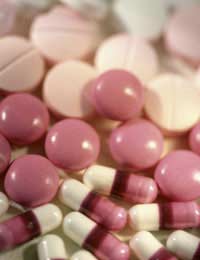 Sexual symptoms of menopause can be frustrating and surprisingly common for women during this 'change of life.' During menopause, your body's levels of oestrogen and progesterone will decline, which can mean that you lose the protective effects of oestrogen. These effects include maintaining a healthy level of vaginal moisture as well as influencing sexual drive and skin elasticity around the vagina. The vaginal walls will also become thinner, further affecting pleasure and comfort during sex.
As a result, many women find that sex can feel different and they are more susceptible to irritation and soreness or discomfort during sex. Fortunately, there are a number of products available to help ease the sexual symptoms of menopause. Speak to your doctor about the different treatment options available, so that you can find one that is best for your unique menopause needs.
Hormone Replacement Therapy (HRT)
HRT works to restore the levels of female hormones, particularly oestrogen, which affects sexual functioning in women. It can help with vaginal dryness and can also improve skin resilience and tone. However, it does come with several significant risks, including an increased risk of stroke and a raised risk for certain kinds of cancer such as breast cancer. For this reason, you will need to speak at length with your doctor about whether HRT is right for your sexual symptoms of menopause.
Oestrogen Creams
There are oestrogen creams that can be applied directly to specific areas of the body. These can be helpful for targeting vaginal dryness and the risk profiles can be better than HRT. It is a short-term, targeted treatment that can work better for women who are not experiencing many other symptoms of menopause but are experiencing vaginal dryness.
Phyto-oestrogens
Phyto-oestrogens are chemicals from plants that act as weaker forms of oestrogen, with mixed reviews regarding their effectiveness. Most of the research has focused on phyto-oestrogens in relation to hot flushes, although there is some small suggestion of them helping other menopause symptoms such as mood swings, which could influence sexual activity. However, there is nothing conclusive yet to show their use in helping sexual problems. Still, the side-effects are few and far between, which means you may want to try them for other menopause symptoms and you can see if they benefit your sexual symptoms of menopause in the process.
Tibolone
Tibolone is a hormone treatment that is used for hot flushes and low sex drive due to women's health problems during menopause. As with HRT, however, it does carry risks, which means it will not be right for every menopausal woman. It has been found to improve vaginal moisture and sexual drive in women experiencing the menopausal transition. One study found it more successful at relieving sexual symptoms of menopause in comparison with the standard HRT.
Vaginal Lubricants and Women's Health
Vaginal lubricants are readily available at the chemist and can rapidly restore moisture and comfort to the vagina. Some women find that they need to use a vaginal lubricant on a regular basis while others will only prefer to use one during sexual activity, when they notice that their vagina is not as lubricated during arousal as it was prior to menopause. There are also vaginal lubricants especially formulated for sensitive women, which can help if you do tend to be sensitive to products. You can use a soothing vitamin E cream for the skin around your vagina and legs, which you may find is more susceptible to redness and irritation following sexual activity.
Your Mental and Emotional Health During the Menopausal Transition
Finally, don't underestimate the importance of mental and emotional health during menopause. Women who approach menopause with fear and a negative outlook on the experience are more likely to suffer from sexual problems. Having confidence in your body and your partner are both important to ensuring you not only feel desire for sexual intimacy, but that you also enjoy sex to the fullest.
You might also like...