Top Ten Myths About Menopause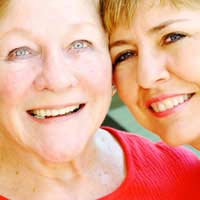 There are a number of myths about menopause, many of which can fuel the stigmatisation of this natural change of life. These kinds of myths can also fuel the fear and dread that some women experience as they approach menopause. Not only that, but they can encourage poor women's health choices when women have misconceptions around menopause. Even men share these false ideas about menopause and may incorrectly assume that a woman is no longer a sexual being after menopause, for instance.
Myth: Menopause is a Disease
Fact: Menopause is a healthy, normal part of life
One of the biggest misconceptions about menopause is that it is a disease. Whether it is the medical community or the general public, menopause is approached as a disease that requires rapid treatment. It isn't to say that the symptoms of menopause are not uncomfortable and challenging for women to handle. Indeed, the very word 'symptoms' implies a disease as well. However, menopause needs to be recognised as normal and natural while women are encouraged to actively take part in the process. This means accepting the changes, weighing the risks and using treatments where appropriate.
Myth: Women Become Fat After Menopause
Fact: Poor diet and lack of exercise are the key reasons women gain weight
For the vast majority of people, weight gain occurs from a poor diet of excess calories combined with inactivity. While our body composition does naturally change with age, this does not automatically mean that a woman will become fat. She can generally maintain a healthy body weight if she embraces a healthy diet and includes regular exercise in her life.
Myth: Women are not Sexy After Menopause
Fact: After menopause, women may feel even sexier and more confident
Although there are some issues in menopause such as vaginal dryness and discomfort with sexual intercourse, a woman's intimacy, bonding and sexual experiences can become more meaningful. A woman can feel, look and act sexy after menopause. In fact some women find that they feel sexier when they don't have to worry about birth control or periods each month.
Myth: Menopause Means a Woman is Old
Fact: Given the current life expectancy rates, a woman will still live a significant portion of her life after menopause
A woman can expect to live decades past menopause and she will spend a large portion of her life in postmenopause. She can feel healthy, energetic and motivated during her postmenopause years.
Myth: Menopause Makes Women Crazy
Fact: Menopause can affect moods but most women can find ways to effectively handle the changes
Menopause can certainly affect a woman's moods and this is one of the characteristic symptoms of menopause. At the same time, mood swings are not akin to craziness. The image of a screaming, irrational menopausal woman is an unfair and false stereotype that has sadly made women dread this change of life. Women have many options for improving communication and relieving stress, both of which help them to handle mood swings.
Myth: Hormone Replacement Therapy (HRT) is Bad
Fact: HRT is not right for every woman, but it can successfully relieve some menopause symptoms
When HRT was first introduced in the media, women became excited at the prospect of a treatment that could relieve the symptoms of menopause. Soon afterwards, however, results from a highly publicised study indicated that the study was abruptly halted due to significant risks experienced by women taking HRT.
The increased risks of blood clots, breasts cancer and stroke led to a backlash against HRT. Due to such results, doctors are now more conservative and cautious when prescribing this treatment. Still, HRT is an important and viable option for some menopausal women. It can help symptoms such as hot flushes and vaginal dryness.
Myth: Since Menopause is Natural, I have Nothing to Worry About
Fact: While menopause is a normal, natural and healthy part of the ageing process, there are still increased risks for certain conditions
Menopause is a natural process that should be respected and appreciated as normal. However, this doesn't mean that there are no risks associated with the decline in oestrogen levels. Osteoporosis and a number of other conditions are more likely to occur. You should still speak to your doctor about how to prevent and treat the health problems that can occur after menopause.
Myth: Menopause means a woman will become depressed
Fact: Even though menopause can trigger symptoms of depression, it is not considered a clinical cause of depression
The physical and emotional changes of menopause can leave some women feeling sad or nostalgic, particularly if they mourn the passing of their fertile, child-bearing years. While a short course of antidepressants may be prescribed to treat these symptoms, the actual symptoms are typically milder ones than those seen in depression – particularly persistent depression. Menopause is not considered a clinical cause of depression.
Myth: Menopause Occurs at Age Fifty
Fact: Although the average age of menopause is fifty-one, a number of women will still reach menopause at a much earlier or somewhat later age
Most people associate menopause with the age of fifty, but there are still women who will experience a premature menopause or a surgically induced one at a significantly younger age than the average onset of menopause. Others may not reach menopause until their late fifties. This means that a woman can experience the symptoms of menopause during a relatively large time span.
Myth: Menopause Can Last for a Few Years
Fact: The menopausal transition and symptoms can persist for a decade or more
As if a few years of symptoms are not challenging enough, some women will experience menopausal symptoms for more than a decade. These symptoms can continue well into the postmenopause phase, particularly sleep problems. Contrary to popular belief, menopause is far from being a process that occurs virtually overnight.
Moving Beyond the Myths of Menopause
You may be surprised by how many myths of menopause you had previously believed to be true. If you are like many people who share these misconceptions, you can perhaps move into this natural change of life with a newfound confidence and appreciation for yourself and women's health. In turn, your knowledge of the facts can be shared with your friends and family members, thereby helping even more women to approach menopause with a clear sense of the facts about menopause.
You might also like...
Thanks for the simple way you explain causes and symptoms,i have just had a total hysterectomy and immediately went into surgical menopause, i am unable to use HRT for some time and it is pretty scary stuff.A lot of websites just seem chat sites and didn't offer me any real guidance! Thanks!
sandy
- 11-Jul-11 @ 1:28 PM