Obtaining Support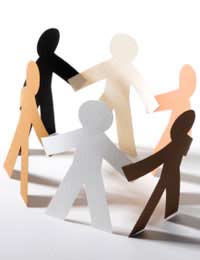 There are few people who will successfully transition through life without any support whatsoever. Indeed, these people can perhaps consider themselves lucky although others would say that having a support network is not only important for helping each of us through difficult times such as the menopausal transition, but also for providing enjoyment and sharing in our lives.
Relating To Your Partner
Unfortunately, some women find that their relationship with a partner can be severely challenged during the menopausal transition. You may feel misunderstood in your symptoms and challenges or you may find that you are suffering from mood swings, which leave you snappy and angry with your partner. However, your partner can be an important support person during the menopausal transition.
If you take the time and effort to relate better to your partner and be open about your support needs, menopause can become a time that brings you closer rather than a time that pushes you apart.
Seeking Support From Friends And Family
Friends and family are not only good support networks for emotional types of support, but they can be wonderful for providing advice and personal stories of what helped them through their menopause. As with your partner, you may have been particularly bad-tempered due to the mood swings of menopause, which may have pushed friends and family away. Fortunately, most friends and family will be accepting of your apologies, openness and commitment to strengthening your relationships.
If you keep friends and family in the loop about your menopausal challenges, they will be more understanding of your mood swings. They can also share their own stories of how they successfully transitioned through menopause. Sometimes, just hearing about how other people experienced menopause can make you feel less alone and isolated during this time.
Obtaining Medical Support
Your doctor is important during this time for any medical support. With your doctor's support, you can obtain access to prescription treatments for menopause as well as accurate, solid advice on ways you can handle menopause at home. If you are someone who has not registered with a doctor and rarely feel the need for you, it's vital that you do register with a doctor in your area now. In this way, you can immediately see your doctor for support if you find you can't handle the symptoms of menopause.
Community Support And Involvement
If you truly don't have much of a support network or the ability to build one, you can look to community involvement as you struggle through menopause. Check with the local health authority about any counselling groups or women's groups in your area. You might even want to consider volunteering to make new friends and find ways to obtain emotional support to improve women's health during menopause.
Building A Support Network For Women's Health During Menopause
Hopefully, you will already have a support network in place when you begin to experience the symptoms of menopause. For some, they may simply need to access or strengthen the support that is already in place.
Those who are somewhat isolated for various reasons may need to garner their courage to reach out to the community and find women's groups or similar methods of support to help them connect with other women. In fact, some women even find that the Internet is a very supportive option because it allows them to 'speak' to other women on menopause message boards. The anonymity can feel more comfortable for some women as well, given that it allows them to more easily discuss sensitive subjects around the challenges of menopause symptoms.
You can also look at the British Menopause Society website (BMS) for more information about menopause. The BMS website provides useful information about menopause symptoms and how to access support during this time.
No matter what types of support networks you need or how many you wish to have, it's important for most of us to have an outlet for venting our fears and challenges with the symptoms of the menopausal transition. Whether we gain valuable experience from these kinds of communication or not, simply feeling understood, supported and not being alone can make all the difference in facilitating a successful and happy transition through menopause.
You might also like...