How to Handle Hot Flushes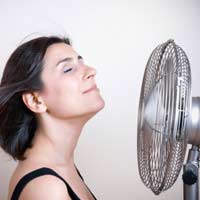 Hot flushes are one of the most common symptoms of menopause, which means that you are likely to experience the effects at some point in time during the menopausal transition. For some women, hot flushes can persist for years although they do tend to disappear once hormone levels even out after menopause.
What Are Hot Flushes?
Hot flushes – also known as hot flashes – are very sudden and intense heat waves that a woman experiences during the menopausal transition. They can sometimes leave a woman's face quite red and hot. On top of that, intense sweating may also accompany hot flushes. Also, hot flushes can last for only a few seconds or they can continue for a few minutes. For some women who are just beginning to experience changing hormones, hot flushes may even occur very frequently – with several striking in only an hour.
The hot flushes can generally happen at any time, which is one of the reasons that women can struggle with them so much. When hot flushes occur, there is an increase in blood flow to the skin. Blood vessels in the skin dilate to circulate blood, which leads to the characteristic increased blood flow and experiences of women who suffer from hot flushes.
Understanding Your Hot Flushes
Not only are hot flushes uncomfortable to experience, but also when they occur in public, at work or over an important meeting or function, they can be extremely embarrassing for women to handle.
Certain foods or beverages can also trigger hot flushes. Spicy foods and caffeine are common triggers of hot flushes in menopausal women. Some women opt to keep a diary to record their hot flushes because this can help them to identify certain triggers – situations or foods, for example – that might precede their hot flushes. These hot flushes can also plague women at night, where they are referred to as night sweats.
Handling Hot Flushes
As your body's hormone levels begin to adapt and settle, you will probably find that your hot flushes diminish. Still, some women will continue to experience hot flushes for years into postmenopause. Fortunately, there are ways to handle your hot flushes, both naturally and pharmaceutically. One trigger of hot flushes is stress, which means that keeping your stress levels down is important in managing your hot flushes.
If you have a very hectic life and you are constantly juggling a large number of priorities, you might need to slow down a bit as you approach menopause. Taking time out to relax and enjoy leisurely activities that make you happy can help to reduce your stress. Practices such as yoga or acupuncture are very helpful to some women as well. A healthy, balanced diet and regular exercise are both important now more than ever to encourage a comfortable transition through menopause.
If you do suffer from hot flushes at a meeting or similar type of environment, it's helpful if you can excuse yourself discreetly from the room and spend a few minutes in the bathroom to allow your body to cool down and get back to normal. Keep some powder handy to dust on your face because it can help to absorb moisture if you sweat from your hot flushes.
Using Hormone Replacement Therapy (HRT) For Hot Flushes
HRT has been shown to help reduce hot flushes in menopausal women. However, it has also been associated with a higher risk of certain conditions such as stroke. Your doctor will discuss whether HRT is appropriate for you. Those women who don't smoke and have healthy lifestyle habits may be better suited to this kind of therapy than those who already have risk factors in place for stroke and other conditions that are associated with HRT.
Hot flushes can be a difficult symptom of menopause but given that they do affect many women, you should know that you are certainly not alone. In fact, they are a symptom that some men are familiar with as well as women of all ages, mostly from the media and general association with the menopausal transition.
Depending on where you work, you can explain what you are going through and most likely, your colleagues will be supportive of your symptoms. Family and friends will probably be similarly supportive, especially those who have already gone through menopause. Above all, know that you can take measures to improve your symptoms and make your menopause experience a much more pleasant one.
You might also like...