Tests for 'Predicting' Menopause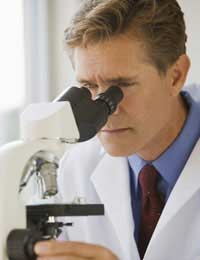 While some women never really give thought to when their 'change of life' will occur, others adamantly wish that they could pinpoint exactly when their menopausal transition will begin and end. Why does it matter?
Starting a Family
For a growing number of women, career takes over much of their thirties and even forties now, which means that they may be considering starting a family later in life than traditionally expected.
Fertility continues to decline as a woman ages but menopause is the signal that a woman's fertile years are now over.
Earlier Menopause
On top of that, menopause can occur earlier in some women relative to others. For this reason, it might be important for you to find out how old you will be when you experience menopause. Yet, this has generally not been feasible in terms of the science behind predicting such an event.
Predicting Menopause
That is, until recently when a controversial study suggested that women can indeed find out when they will reach menopause. Researchers in the Netherlands have stated that a fairly basic blood test can aid women in determining when they will reach menopause. The test detects a hormone called anti-Mullerian hormone.
Investigating Menopause
So, how was this discovery made? Initially – approximately five years ago – researchers began to investigate when they discovered that little follicles that had yet to mature in the ovaries released the anti-Mullerian hormone. These follicles are a useful indicator namely because they host maturing eggs. Quite simply, the more follicles a woman has, the greater her odds at conception. Following on that concept, a woman would then have higher levels of anti-Mullerian hormone as well.
Better Accuracy
Today, a clinic that performs In Vitro Fertilisation (IVF) places a strong reliance on an ultrasound to count follicles. However, the images aren't always clear because they can be blurred by tissue in the intestines. Other times, the procedure just isn't strong enough to pick out each follicle.
But by measuring the anti-Mullerian hormone, researchers believe they can obtain greater accuracy. To actually conduct the study, researchers looked at the levels of the hormone in women aged twenty-five to forty-six. They then looked at the levels of the hormone in women who were aged fifty-eight to seventy and had already experienced menopause.
After graphing the data, they found a specific 'cutoff' point of the hormone, which led to menopause occurring. If they plotted the younger women along the curve, depending on the hormone levels, they were able to predict when these women would experience menopause. In turn, this could tell the women how many years of fertility were remaining.
Continued Research
The researchers now hope to look at how anti-Mullerian hormone levels differ around the world, which means that further studies might look at how ethnicity affects menopause and hormone levels. Still, some professionals believe this to be a highly inexact science that requires a great deal more research before any woman can reasonably rely on it to tell her when she will reach menopause.
For now, it's best to probably approach menopause as something that will occur around the age of fifty although you can stay aware of the newest research in the field and speak to your doctor if the testing eventually becomes a mainstream one that is reliable and accurate.
You might also like...