Nurturing Yourself with Massage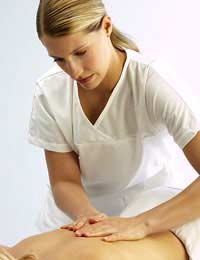 We hear a lot about nurturing ourselves during the menopausal transition but what does it really mean? For some women, it means focusing on their mental and emotional health. For others, it means relieving the physical symptoms of menopause. Yet for a third group of women, it will mean nurturing all of the different parts of themselves – mental, emotional and physical – to promote relaxation and relieve menopause symptoms. For these women, massage can be a uniquely satisfying experience for calming their nerves and providing therapeutic benefits to their physical menopause symptoms such as hot flushes and headaches.
The Healing Power of Massage
Many women may underestimate the power of touch, but it can provide significant benefits, particularly during the menopausal transition. Not only can massage help with menopause symptoms directly, but it can also relax you and leave you feeling better equipped to handle your menopause symptoms, especially mood swings and exhaustion.
Therapists who perform massage often choose to specialise in a certain area of women's health such as massage for menopause. These therapists will pay attention to the lower back areas of menopausal women as well as their abdomen. They may add in aromatherapy treatments with oils that are known to provide benefits to women's health during menopause.
A massage therapist might also recommend other relaxing and strengthening treatments that you can perform outside of the massage session. These include yoga, acupuncture or deep breathing exercises. Your massage therapist will be concerned with helping you to relieve stress experienced during the menopausal transition while providing immediate relief from physical tension and menopause symptoms.
Some massage therapists might combine massage with body wraps such as seaweed body wraps to soothe dry skin that occurs as your oestrogen levels decline. These wraps can also lessen redness from irritated skin, which is quite helpful for women who find that menopause has left their skin newly sensitive and prone to irritation. Massage may also incorporate reflexology to target pressure points and provide a natural alternative to prescription relief that uses hormones. Massage is considered extremely safe and any side-effects are very rare, although you should still take care to choose a qualified massage practitioner.
Positive Encouragement and Massage
The caring nature of a person who provides massage is another beneficial aspect of this kind of menopause treatment. Massage therapists not only help to ease menopause symptoms and equip a woman with the emotional strength to handle her symptoms, but they also encourage women to appreciate themselves and focus on their needs during menopause. A massage therapist can provide the much needed reassurance to a woman that she is capable and strong to handle her menopause. For some women, this allows them to appreciate their beauty and confidence during the changing time of menopause.
Massage can really offer a time for women to evaluate themselves and their lives. The massage session may leave you feeling sleepy, invigorated or very introspective as you consider your life and your needs. It helps a woman to take back control over her life and choices, which is very important when a woman feels such a loss of control due to changing hormones.
Choosing Massage Therapy for Menopause
Referrals from friends and family are generally an excellent route when choosing a massage therapist. You should also check the massage therapist's credentials to ensure they are trained and qualified in massage, especially for the unique women's needs during menopause. You can usually have a tour of the spa or massage facilities before choosing a massage. You should look for stringently clean facilities that look comfortable and relaxing.
Whether you are looking for a replacement therapy to hormone treatments for menopause or you simply want to add another treatment to your menopause repertoire, then consider massage therapy for relief. Not only can you ease physical menopause symptoms but you can also reduce stress, regain confidence and reclaim your power over your emotions and health.
You might also like...