Risks of Early Menopause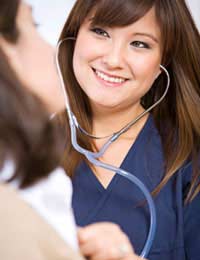 Although most women will, on average, experience menopause around the age of fifty, some women will go through early menopause. There are a number of reasons this occurs, ranging from surgery to a medical condition or treatment.
Reducing Risks
Unfortunately, there are numerous risks associated with early menopause. If you are a woman who is experiencing the symptoms of early menopause, it is important to speak to your doctor about reducing your risks.
A woman who experiences early menopause will still have the same symptoms as women who go through menopause at the average age. These include hot flushes, mood swings, vaginal dryness, night sweats and forgetfulness.
Vision
Vision problems are associated with early menopause. Cataracts in particular can occur. These are growths that occur in the eyes and can lead to blurred or clouded vision. If you go through early menopause, you may need more frequent eye checks to ensure your eyes and vision are healthy and normal.
Osteoporosis
Osteoporosis occurs when the bones weaken and become more brittle, putting a person at a higher risk of bone fractures, particularly in areas such as the hips. Oestrogen has a protective role in bone metabolism. When a woman experiences early menopause, she has a higher risk of osteoporosis due to her body not producing oestrogen for a longer period of time.
Oral Health
If you reach early menopause, you should consider that the risk of osteoporosis also relates to oral health. The lowered oestrogen that reduces bone mineral density can similarly affect bone density in the jaw and mouth. This can mean you are more likely to suffer from gum disease and that you are also more likely to experience tooth loss.
Heart Problems
Typically, it is men who have a higher risk of heart attacks compared to women. It is thought that the oestrogen in a woman's body exerts some sort of positive influence on heart health. When these levels drop due to menopause, a woman's risk of a heart attack increases to a level more similar to that of a man's risk.
Any woman who experiences an early menopause therefore should consider this increased risk. Although all women will eventually experience a higher risk as they age, for women who go through early menopause, it is sustained for a longer period of time in their life.
Treatment for Early Menopause
Treatment for early menopause is a uniquely individual decision. It can only be made when you and your doctor have examined your personal health history and weighed the benefits and risks of various treatments. For many women, hormone replacement therapy (HRT) will be appropriate. Most of the risks associated with early menopause relate to the lower levels of oestrogen.
Since HRT restores these levels, they won't halt early menopause but will help to restore the positive functions of oestrogen in the body. There are, however, risks as with any medical treatment. Women taking HRT will have a higher risk of certain cancers as well as other diseases. Fortunately, there are many options available for reducing the risks of menopause. Talk to your doctor about the best approach to help make menopause a positive, healthy time in your life.
You might also like...