Premature Menopause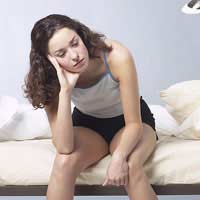 If you are like the average woman in a westernised country, the typical age for menopause to occur is fifty-one. However, with other factors included such as genes, medical conditions or surgery, a woman may go through menopause at an earlier age, prior to the age of forty. When menopause occurs before the age of forty, regardless of whether it is a natural or surgical menopause, it is called premature menopause.
Symptoms of Premature Menopause
The symptoms of premature menopause are virtually the same as the health symptoms experienced by women who undergo natural menopause around the average age for this 'change of life.' Symptoms include:
Missed or irregular periods
Mood swings
Vaginal dryness
Hot flushes
Night sweats
Irritability
Insomnia
All of these symptoms represent health changes in women's oestrogen and progesterone levels, as the ovaries produce less and less of these reproductive hormones. While a woman who experiences premature menopause may otherwise be healthy, she should see her doctor if she has undergone cancer treatments such as chemotherapy or radiation therapy. These treatments can make a woman more susceptible to premature menopause. There are other conditions such as some autoimmune disorders that can also predispose a woman to premature menopause.
Special Challenges of Premature Menopause
Women who experience premature menopause have special challenges that are not as common in women who undergo menopause around the average age of fifty-one. A woman who has a premature menopause has to deal with the same types of common symptoms such as hot flushes and irregular periods, but she also has a heavier burden of physical and emotional challenges. If you think about the fact that menopause represents the closing of a woman's fertile years of life, you can see how a younger woman who still wants a family would now have to contend with infertility.
Diagnosing Premature Menopause
If you are experiencing symptoms of menopause and you are under the age of forty, you should see your doctor for accurate diagnosis and treatment. Initially, your doctor will probably perform a physical exam and laboratory tests to ensure that you are not suffering from another condition that is causing the symptoms. Your doctor might also order a test to check your estradiol levels. If these levels are low, it can be an indication that your ovarian functioning is declining. When they reach a certain medical cut-off mark, it can be a sign that you are entering menopause.
A key laboratory test used to diagnose for premature menopause is a blood test that detects a hormone known as Follicle Stimulating Hormone (FSH). This hormone causes the ovaries to produce oestrogen, which means that as ovaries reduce their production of oestrogen, FSH actually goes up. Once they reach a certain high point, it is a good indication that you are entering menopause.
Risks of Premature Menopause
As with menopause at any age, certain risks occur to health once a woman has reached menopause. Bone density loss occurs, which can lead to osteoporosis – a thinning of the bones. Other risks occur such as an elevated risk of colon cancer. The main concern regarding a woman who experiences premature menopause is that she lives a larger portion of her life without the protective benefits of oestrogen. This means that even though she will experience the same types of health concerns as older women who experience menopause, the risks will be elevated.
Treating Premature Menopause
Managing premature menopause is similar to managing natural menopause at the average age of onset. However, the infertility aspect that occurs at an earlier age may mean that a woman who still wants to have children will need to discuss these options with her doctor, who can then refer her to a specialist for reproductive issues. The longer time period that a woman experiences bone loss and other menopausal challenges may mean that she will need to undergo Hormone Replacement Therapy (HRT) with oestrogen. Still, there are numerous risks to this therapy as well, which means that the use of HRT will need to be discussed on a case-by-case basis with your doctor.
None of us know when menopause will occur – unless we undergo surgical menopause – and this can mean that premature menopause can come as a shock, particularly if it interferes with family planning. While there are additional challenges associated with premature menopause, women do not require their reproductive system to experience a happy and healthy life. With proper physical and emotional care, you can experience a positive menopausal transition, whether it occurs when you are fifty-one or a premature menopause prior to the age of forty.
You might also like...