Perimenopause: Transitional Changes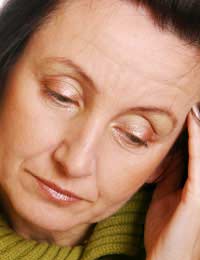 Menopause is full of changes and symptoms, both physical and emotional. To help you understand what is happening in your body during this time and what symptoms to expect next, there are menopause stages. They include:
Perimenopause
Premenopause
Menopause
Postmenopause
Some people consider premenopause and perimenopause to be the same, although perimenopause marks noticeable changes to a woman's oestrogen and progesterone levels. During the perimenopausal time period, most of a woman's reproductive hormones such as oestrogen and progesterone will decrease. The levels can fluctuate widely and can't be predicted for each woman. Perimenopause can occur over a number of years leading up to menopause. This is the time when fertility declines as well.
Your Perimenopause Experience
Perimenopause signifies a woman's loss of fertility – her ability to become pregnant. It is a transition period in her life and occurs due to the body's normal and natural ageing process. Perimenopause eventually leads up to menopause, which occurs when a woman has her last and final menstrual period. Symptoms of perimenopause include:
Irregular menstrual periods
Insomnia
Mood swings
Hot flushes
Vaginal dryness
Night sweats
When to See Your Doctor
While perimenopause can be challenging, particularly if you experience significant physical and emotional symptoms, there are still instances where you should see your doctor. If you experience any abnormal vaginal bleeding, it's important to make an appointment with your doctor because there may be causes other than perimenopause. You could be suffering from a sexual health problem such as a sexually transmitted disease, which would require treatment.
You are also at a time when you will likely be experiencing some bone loss due to declining levels of oestrogen. If you have a family history of osteoporosis or other risk factors for osteoporosis such as a smaller frame or a history of eating disorders, you should speak to your doctor about calcium and vitamin D supplementation. There are also drugs used to prevent and treat osteoporosis. However, they are not used for every woman; your doctor will discuss the appropriateness of preventative treatments for osteoporosis. Alternately, a bone densitometry may be recommended.
Handling the Symptoms of Perimenopause
There are a number of ways to treat perimenopause but beyond natural and lifestyle adjustment approaches, drug approaches usually involve hormones. Hormone Replacement Therapy (HRT) is commonly prescribed to manage symptoms during perimenopause. HRT can help with hot flushes and night sweats as well as other symptoms that are uncomfortable. However, there is still some controversy around the use of HRT because research suggests that it increases the risk of breast cancer and other diseases. Your doctor will speak with you regarding the appropriateness of HRT for your perimenopausal symptoms.
You should ideally also try natural methods to improve symptoms during perimenopause. Regular exercise and a healthy, nutritious diet can improve your mental well-being. You can also use vaginal lubricants for any dryness you experience; lubricants can further ease any normal discomfort during sexual intercourse. Try to avoid environments or food triggers that seem to prompt hot flashes. For night sweats, keep your bedroom cool at night and consider purchasing a fan.
Menopause is really the culmination of hormonal changes that signal the end of a woman's fertile years. Perimenopause brings with it a vast number of physical and emotional changes, all of which can cause uncomfortable symptoms and challenges. By maintaining open communication with your doctor for any unusual perimenopausal symptoms while also using natural or drug therapies to alleviate discomfort, you can ease your transition through perimenopause.
You might also like...