Painful Intercourse During and After Menopause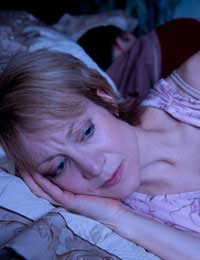 Painful intercourse can occur during and after menopause, although each woman responds differently to the menopausal transition. For you, sexual intercourse may even become more enjoyable now that you no longer have to worry about birth control and pregnancy after menopause.
During the perimenopause phase, your hormone levels of oestrogen and progesterone begin to change, which leads to vaginal and sexual health changes as well. The walls of the vagina lose elasticity and strength while you may find you experience vaginal dryness and decreased lubrication during sex. In turn, the increased friction on drier tissues can mean that intercourse becomes uncomfortable or painful.
It's important to note, however, that while the experience of some discomfort or pain during sex could be normal for you during the menopausal transition, you should never find sex extremely painful. In this instance, you would need to see a doctor to ensure it is not another women's health condition that is causing the pain during intercourse.
What Causes Painful Sex?
There are many causes of painful sex and just because it occurs around the time of your menopausal transition, does not mean that it is automatically related. The pain you are experiencing could be due to an infection or a women's health problem with the cervix or uterus. It could also be a sexual health condition known as vaginismus, which is a very common women's health condition in which the woman experiences a spasm in her vaginal muscles. It primarily occurs from tension and fear of pain during intercourse. For menopausal women, just knowing that vaginal dryness occurs can leave women tense and fearful about potential pain during intercourse. Sexually transmitted diseases can also affect sexual health by causing pain during intercourse.
Sometimes, it is even a case of a woman not being lubricated enough. If you are suffering from vaginal dryness due to menopause, you can try an over-the-counter vaginal lubricant. Some women also find that they benefit from using a vaginal lubricant not only prior to foreplay, but regularly each day during non-sexual activity. This way, lubrication is naturally and healthily maintained, which should make sex more comfortable and enjoyable for both you and your partner.
Is it Normal or Abnormal?
While how a woman experiences menopause can be uniquely individual, if you are suffering from significant pain during intercourse, you should immediately see your doctor. The pain could signify an underlying condition unrelated to menopause or it could represent something that is exacerbated by menopause. Some new pain during this time could be normal for you, which means that trying measures such as using a lubricant and ensuring you are relaxed during intercourse can be helpful.
Menopause is a time of many physical changes and when these changes affect your relationships and sex life, it can be particularly distressing. There are, however, many ways to treat the vaginal changes that result from your changing oestrogen and progesterone levels. If the pain does become severe, speak to your doctor about other causes of pain during intercourse. With a few simple measures and a proactive approach to your gynaecological health, you can enjoy a fulfilling sex life in your relationships before, during and after menopause.
You might also like...