Menopausal Challenges in Reaching Orgasm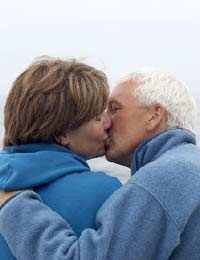 There is a mistaken belief among many people – both men and women – that when a woman reaches menopause she is no longer desirable and her libido and ability to enjoy sex are over. However, this is far from the truth. While there are still some women's health challenges associated with menopause that can affect a woman's sex life, a woman can expect to lead a healthy, fulfilling sex life after menopause.
Menopause signifies the end of a woman's fertile years. This fertility is not synonymous with poor women's health and poor sexual enjoyment nor is it needed for a woman to require sexual fulfilment, affection and intimacy. This does not mean that achieving orgasm will necessarily be as easy as it was prior to menopause, but it most certainly is possible if you look after your physical and emotional health before, during and after menopause.
Issues in Achieving Orgasm
Some of the challenges of reaching orgasm are directly related to physical women's health changes that you experience during the menopausal transition. Lack of desire and low libido can occur during menopause. The hormonal changes you experience as your ovaries cease to function can lower your sexual desire. Another issue that can affect your achievement of orgasm involves changes to the vagina. Your vaginal tissue can become dry and this can lead to pain and discomfort during intercourse. Some women find that they experience weight gain during the menopausal transition. They may retain water and gain weight, which then leads to a feeling of insecurity as a woman feels less attractive, sexy and desirable.
The challenges of handling the physical and emotional women's health changes of menopause can further leave a woman feeling fatigued, overwhelmed and exhausted. Sex may be the last thing on a woman's mind as she copes with all of these intense changes. As a woman deals with hot flashes, night sweats and mood swings, setting the mood for sex can seem like a chore rather than a pleasure.
Handling Sexual Challenges During the Menopausal Transition
Although it can seem as though there are many women's health challenges to address during menopause, each of these can be overcome with some patience and attention to your physical and emotional well-being. Women can enjoy wonderful sex lives after menopause but these women will usually be ones who put in the effort to ensure that they are in the mood and physically comfortable to enjoy sex with their partner.
Some women also associate menopause with ageing and ugliness. They view menopause with a negative connotation. Rather than seeing menopause as a positive and natural change of life, they view it as something to be dreaded and avoided. When menopause does arrive, they feel sadness, anger or disgust with themselves. They may see menopause as the end of their sex life.
By using healthy, positive thinking, however, women can change this stigma of menopause and instead, use a positive attitude and approach to their sex lives. Although you may need to adjust to the sexual health changes of menopause, you can still increase your libido and arousal. Focus on building your self-esteem through new hobbies, positive thinking and a healthy lifestyle of exercise and a balanced diet. Try to achieve and maintain a healthy body weight, which can allow you to feel good and look your best.
Increasing Foreplay During the Menopausal Transition
Increased foreplay can help if your ability to reach orgasm is compromised during and after menopause. Some women find that during the menopausal transition, they need extra foreplay, affection and intimacy to become sufficiently aroused. Open communication with your partner can be particularly helpful around this time.
Hormone Replacement Therapy (HRT)
Some women may be candidates for HRT to compensate for the oestrogen loss that occurs during the menopausal transition. There are still risks associated with HRT, however, so you should speak to your doctor about whether it is appropriate for you. You can also increase pleasure and comfort by using a vaginal lubricant, which alleviates vaginal dryness resulting from oestrogen and progesterone changes in menopause. Some health professionals recommend Kegel exercises – known to improve muscle tone and encourage natural production of lubrication while enhancing women's health.
Improved Sex During and After Menopause
Although it is true that menopause brings physical and emotional sexual health changes that can make it more challenging to reach orgasm, the ultimate reality is that patience and effort can actually improve sex and orgasms as well. Keep in mind that you can still become pregnant during the perimenopausal period, which means that you should continue to use birth control if you do not wish to become pregnant. By communicating with your partner, using lubricants as needed and focusing on sharing intimacy and affection, your menopausal transition can facilitate fulfilling sex and may even improve orgasms.
You might also like...