Breast Density Changes from HRT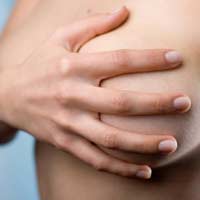 Choosing to take hormone replacement therapy (HRT) is a decision most women will probably consider at some point during their menopausal transition or in their post-menopausal years. There are both risks and benefits, with one risk being that there appears to be an increase in breast density.
This increase is linked to breast cancer in women who take HRT. It is this change that has only recently been uncovered after a study on HRT in the 1990s found a higher risk of breast cancer in women who took this therapy.
Oestrogen and Progestin Therapy
In women who took part in a study that had them taking oestrogen and progestin therapy, researchers found that these women experienced an increase in their breast density. This increased breast density is thought to be behind the increase in breast cancer that was identified.
Increased Breast Cancer Risk
Those conducting the research were part of a larger group who did the same clinical trials in the early 1990s where the study was stopped early. Women on the oestrogen and progestin therapy had shown an increased risk of cancer. But even still today, researchers wanted to see exactly what was happening in the bodies of these women that heightened their risk of cancer.
For the current study, researchers looked to see if the breast density as determined by a mammogram was the reason behind this significant increase. Results showed this was exactly as the researchers had suspected. The density shown by the mammogram was the key predicting factor to mark a higher risk of breast cancer.
Predicting Breast Cancer Risk
Those who took the oestrogen progestin therapy ultimately had an approximately twenty-four percent higher risk of breast cancer than those who were not taking the therapy. On top of that, researchers could even make predictions about who would get breast cancer.
Their predictions were based on how much the breast density had changed. Women taking oestrogen progestin therapy who showed the biggest increases in their breast density had a tripled risk of breast cancer.
Screening for Breast Cancer
The advice given is that if a woman is planning to take HRT that involves oestrogen and progestin, her doctor should be aware of potential changes in breast density that could heighten her risk of cancer. Regular mammograms will likely be an important part of this screening.
Choosing the Best Menopause Treatment
Even though there are risks such as breast density changes for women who choose to take HRT, there are other benefits such as reduced bone loss that can be important for women. You should speak to your doctor about your personal risk factors and any concerns about HRT.
Not everyone is a candidate for HRT and of those who are a candidate, it is your choice whether the benefits outweigh the risks. For instance, if you have a strong family history of breast cancer, HRT may not be right for you given the risks. Becoming informed is your best weapon in your quest to make the right choices for your menopause symptoms and overall health.
You might also like...