A Healthy Weight After Menopause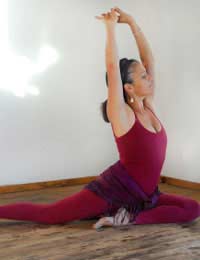 Menopause has long been associated and stigmatised with the notion that women will gain significant weight during this time. But while there are some changes in menopause that could relate to weight gain, the key is to balance caloric intake with expenditure for weight maintenance.
Alternately, most women will find that if they are gaining weight, the real culprit is often overeating, whether it's portion sizes that are too large or eating too many foods that are high in calories but low in nutrition.
Why Does Weight Gain Occur During Menopause?
Weight gain is more likely to occur as we age and you are more likely to see excess weight around the abdomen – known as visceral fat – during the years of your menopausal transition. Also, lifestyle changes that often occur during the middle-aged years play a role too. People may be more sedentary and will be exercising less and eating more. Fortunately, you can control these factors to help prevent weight gain, particularly to the abdominal area.
Menopause and Appetite
For some women, weight gain comes from overeating as a result of stress. Emotional eating can happen at any stage in life but the major changes of menopause can be particularly difficult for some women, leading to overeating. They may become even more frustrated with the weight gain, which only leads to more emotional eating in a vicious cycle.
It can help to keep a food diary that lets you detail your thoughts and feelings that are occurring around mealtimes. Are you really hungry? How are you feeling when you eat? It's best to make mealtimes a relaxed, calm and positive experience. Eating slowly and paying attention to signs of fullness can also help to prevent you from overeating.
Exercise and Menopause
One important way to help maintain weight during the menopausal transition is to get regular exercise. On top of that, the bone-building benefits of weight-bearing exercises are very important to help prevent osteoporosis now that your oestrogen levels are lower and you lose the protective effect of this hormone. The mood boosting benefits of exercise can be another bonus during menopause if you're dealing with any feelings of depression or anxiety.
Your Healthiest Weight
While it's normal and natural to find that your body composition and metabolism change as you get older, you can still reach and maintain a healthy body weight – during and after the menopausal transition. You also need to make sure that your expectations are realistic ones. You shouldn't be striving for the body you had in your teen years, for instance.
Instead, eat a balanced, varied diet and get plenty of regular exercise. Your body can be at its natural best rather than being forced into a standard that it difficult or impossible to maintain. It might be wise to consider joining up with a friend to help one another through menopause changes while having regular, scheduled walks or other forms of exercise. Menopause brings many challenges but weight gain needn't be one of them if you take good care of your health.
You might also like...