Lung Cancer and Anti-Oestrogen Drugs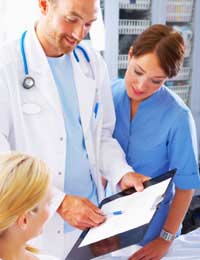 Lung cancer is most often associated with smoking cigarettes – and with good cause, as it is a leading factor in the development of lung cancer. There are, however, other factors that influence the risk of lung cancer.
Hormones and Cancer
Hormones seem to play a role and it was research in menopausal women that led to a new study investigating how anti-oestrogen drugs may relate to lung cancer. Previous studies found that hormone replacement therapy (HRT) increased a woman's chances of dying from lung cancer.
Higher Mortality from Oestrogen Drugs
In fact, one study was cut short when it was found that HRT had such a significant effect on mortality from lung cancer – among other risks. While the use of HRT did not result in more women being diagnosed with lung cancer, it did increase their risk of dying from the disease.
Could an Anti-Oestrogen Help?
This research, however, had a positive effect in that it led researchers to believe that an anti-oestrogen could do the opposite. Anti-oestrogens are already used as drug therapy for treating other kinds of cancer. Researchers set out to investigate the potential of anti-oestrogens and found that the results supported their hypothesis.
Tamoxifen and Lung Cancer
Tamoxifen is an anti-oestrogen medication that is commonly used to treat breast cancer. In this recent study, it was found that it could reduce the risk of dying from lung cancer. The results are in line with the belief that hormones play a part in lung cancer, and thus oestrogen levels influence the outcome for a lung cancer patient.
Looking at the Evidence
A research group made a comparison between lung cancer incidence and deaths from breast cancer patients who received anti-oestrogen therapy and those who did not receive it. With nearly seven thousand women taking part, all had been diagnosed with breast cancer and nearly half received anti-oestrogens.
Hormonal Influence on Lung Cancer Mortality
Forty of the women in the study ended up developing lung cancer. While the actual incidence of lung cancer was not very different between the breast cancer patients who were or were not treated with an anti-oestrogen and the general population, another difference was noted.
For the women who were taking the anti-oestrogens, not as many died from lung cancer as researchers expected. Results showed that there were eighty-seven percent fewer deaths from lung cancer in the women who were taking anti-oestrogens when compared to the rest of the population.
Reducing Lung Cancer Mortality
As women age – and particularly after menopause – their risk of developing cancer increases. The use of HRT in particular is relatively common to treat the symptoms of menopause. This new study lends further credence to the role of hormones in cancer mortality.
Finding ways to both prevent cancer and treat it are important for women. Clearly, a woman's hormones play a role in the death rate from lung cancer. It is hoped that the clinical evidence from this recent study will lead to better lung cancer treatments, reducing the mortality rate for women.
You might also like...