Soy Isoflavones & menopause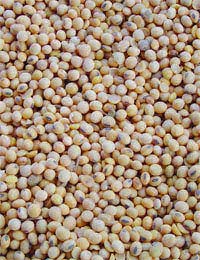 There are many ways to approach your menopause symptoms, which means you have an array of choices for handling the transition through this challenging time. One interesting treatment that has shown promise in research studies is soy isoflavones. Isoflavones are in many foods but the most commonly recognised source is soya beans. It is the soy isoflavones that have shown numerous benefits for health and challenges such as menopause. By consuming products with soy, it is thought that you can relieve some of the symptoms of menopause, without the side-effects of other menopause treatments such as Hormone Replacement Therapy (HRT).
Using Soy Isoflavones for Menopause Symptoms
Soy isoflavones have shown many benefits in providing relief for menopause symptoms. They can reduce hot flushes and promote increased bone density in women. Soy from other sources such as red clover may also be beneficial, although more research is needed to show a definite benefit. Their role in promoting bone density means that they can help to prevent osteoporosis. For women in menopause and postmenopause, the loss of oestrogen leaves them without the bone protecting effects of this important hormone.
As such, thinning bones are a major health concern for women during and after menopause. Isoflavones are not only thought to help prevent the breakdown of bone, but they are also believed to help in the building of new bone. There does need to be more research but thus far, soy isoflavones do appear to be beneficial to women's health.
Heart Benefits of Soy Isoflavones
Another benefit of soy isoflavones that becomes more important as you go into postmenopause and your body ages – is a reduction in the risk of heart disease. Soy isoflavones are thought to promote healthier arteries and improved cholesterol levels. For this reason, they can be particularly helpful for improving your heart health before and after menopause. If you include cardiovascular exercise, you can further enhance the benefits of soy isoflavones for your heart health.
Soy Isoflavones for Cancer Prevention
Another area where it is thought that soy isoflavones can provide benefit is in reducing the risk of cancer. These substances are though to prevent tumour growth in cancers such as breast cancer and endometrial cancer. For women who are taking HRT, which comes with an increased risk of certain cancers such as breast cancer, soy isoflavones could possibly provide an additional protective effect. Soy isoflavones have also shown promise in reducing the risk of endometrial cancer, which is another important preventative area for women's health, particularly as women experience menopause and the years beyond.
Using the Right Menopause Treatment for Women's Health
Whatever your menopause symptoms, they are not pleasant and can be quite challenging to handle, particularly with the busy lives that women today tend to lead. Although HRT works well for some women, others prefer to use a treatment that has fewer side-effects, especially less serious ones. Soy isoflavones are one way to help reduce menopause symptoms. They also work well as part of a healthy diet, regardless of your intentions to treat menopause symptoms.
Speak to your doctor about the best menopause treatments for your specific symptoms and discuss the benefits of soy isoflavones in addition to other treatments or used alone. Taking a proactive role in women's health can ensure that you choose the best treatment for your menopause symptoms.
You might also like...
Bo jangles - Your Question:
Can I take soy isoflavones along with Evorel 50 patches?I change my patch between every 2-3 days because it dries out so quickly, my dose is 3.2g, Estradoil. Along with 300mg x3 Gabapentine? Thank you
---
Our Response:
We really can't advise on specific medications and combinations. Your GP is the best person to consult with.
MenopauseExpert
- 29-Mar-16 @ 11:19 AM
Can I take soy isoflavones along with Evorel 50 patches? I change my patch between every 2-3 days because it dries out so quickly, my dose is 3.2g, Estradoil. Along with 300mg x3 Gabapentine?Thank you
Bo jangles
- 26-Mar-16 @ 3:58 AM
Hi, I am 41 years of age and have started to experience irregular periods, mood swings and night sweats around the time my period is due.I've had an ultra scan and it was fine/normal. My GP said at my age it could be the early signs of menopause.I'm thinking of starting to take natural supplements now to not only help with my current symptoms but build up a store to help when I do start the full menopause.Do you think this is a good idea and what would you suggest I take? Thanks
Staf077
- 30-Jul-13 @ 8:17 PM
Is it safe to take Isoflavones when taking the Oestrogen pill (HRT)?I'm trying to wean myself off HRT.
jeannie960
- 23-May-13 @ 12:04 PM