Basics of Female Reproduction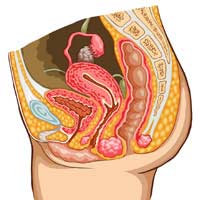 For most of us – man or woman – female reproduction is a subject of fascination and interest, whether it's a media story on a celebrity pregnancy, a personal struggle with reproductive problems or the challenges of menopause and menopause symptoms. From the school days to adulthood, most women learn from friends, family and teachers just how the female reproductive system works.
Yet, as women approach menopause, they may begin to feel out of touch with their bodies. Their knowledge of the female reproductive system can almost become more important in the sense that it guides the ceasing of reproduction and the entrance into the "change of life," or menopause. Sorting out this barrage of information can seem difficult but if you have a good understanding of the basics of female reproduction, the changes occurring during menopause and the menopause symptoms you experience will make much more sense.
Understanding How Your Body Works Before and After Menopause
Humans, as with any living things, reproduce but the reproductive system is different from other body systems for a number of reasons, a key one being that it is not essential to keep you alive. If you think about menopause in that same light, it tends to occur around age fifty-one, where most women can expect many decades more of healthy, happy life, despite the changes that have occurred to their reproductive system, which subsequently lead to menopause symptoms.
While most women will know that their reproductive system enables them to produce eggs, protect a fertilised egg until development and give birth, they may not realise that they are born with an enormous number of eggs. These eggs are inactive prior to puberty, at which time the woman's pituitary gland begins to churn out hormones that trigger the woman's ovaries to produce female sex hormones. Following on this, a woman develops into a sexually mature person. A woman must produce these sex hormones to maintain her reproductive system.
If you don't already know what happens when the sex hormones are no longer produced, you can probably guess that this change is what leads to menopause and the menopause symptoms you ultimately experience. When a woman's oestrogen and progesterone levels begin to change and her ovaries are not as functional, less of the hormones are produced and the woman's body responds in a number of ways. Her ovaries stop producing eggs and her body will continue to produce even less oestrogen and progesterone, with menstruation becoming more infrequent and then stopping completely.
Your Changing Body in the Menopause Transition
While the female reproductive system can seem to be a complex system of organs and hormones, it really does play such an important role in allowing women to develop sexually, prepare for pregnancy and carry a baby to term as well as change with age, which ultimately leads up to menopause. The more you know about how the female reproductive system works, the better you can approach menopause and your menopause symptoms. You will be well-informed and ready to handle the incredible changes and resulting effects of this natural time shared by women everywhere.
You might also like...