Communicating Better About the Menopause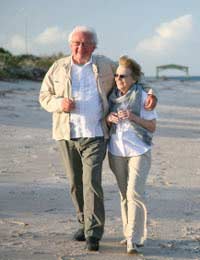 Even though some women see menopause as a blessing in their life, a great number of women will view it as a curse. It is this negative approach to menopause that can form the basis of a challenging transition and poor communication and relationships throughout this change of life. Most people can use improvement in communication skills but it is during menopause that even those who usually communicate successfully may find themselves struggling with how to handle new mood swings and emotions.
Acknowledging your Moods
If you ignore your moods and relationships, you may ultimately pretend that you are fine during the menopausal transition when in reality, you are miserable. This can leave you lashing out and more frustrated with menopause. Sometimes, it can help to take a step back and simply acknowledge that you are grumpy and irritated. Having bad moods is not the same as poorly communicating those bad moods. Don't be too hard on yourself! While you can make lifestyle changes and use stress reduction techniques to improve your moods and relationships, it can be very helpful to be somewhat accepting of the moods. Respect and appreciate that you are human and you are going through what can be a challenging hormonal change of life.
Focusing on the Present Reality When You Communicate
One problem with poor communication during the menopausal transition is that your anger and mood swings may become unrealistic for the triggering situation. Instead of logically approaching what bothers you, instead you might use one source of irritation to bring up everything from the past. For instance, when your partner perhaps doesn't help you with dinner clean-up, you use that opportunity to remind him of every other aspect of his character that bothers you. Rather than focus on the present reality and specific situation, you dramatise the situation and make it more overwhelming for both of you to handle.
It's important to treat each issue as a separate one, which means that it must be resolved before discussing another problem. In this way, the other person can handle the issue and listen to your feelings without being overwhelmed or exhausted.
Improving Your Sexual Health
Your sexual health is important during menopause – in part because it will be changing and your hormonal levels can affect your ability to become lubricated during sex. It is a time when you need to communicate your sexual needs to your partner. As you look after your own sexual health, your commitment to strengthening communication with your partner can improve intimacy and sexual enjoyment.
Strengthening Relationships and Making Amends
Sometimes, it will inevitably happen in relationships that you say something you regret or you realise you acted uncharacteristically due to the hormonal changes of menopause. Rather than dwell in silence or wait for the receiving person to broach the situation, be proactive and make amends. Apologise for anything you said that wasn't appropriate or a true representation of how you felt.
Resolve to do your best to make changes in how you speak to that particular person. Most of the time, your loved ones will be accepting that you are human and like everyone else, you can make mistakes. How you handle those mistakes and communicate your feelings afterwards can be a big step to improving your relationships during the menopausal transition.
Reducing Stress During the Menopausal Transition
One of the most important ways to communicate better during the menopausal transition is to work at reducing stress while improving relationships, which will decrease the likelihood that you have to even work at handling those difficult mood swings, depression or anger. Whether it involves taking up a new, enjoyable hobby or using aromatherapy or acupuncture for relaxation, reducing your stress will not only help you, but it will also help in your communication with those around you.
You are never too old to make changes to your communication style. In fact, you can begin by first viewing menopause as a healthy, natural and normal part of the ageing process. Once you are ready to approach your communication during menopause with a positive attitude, you can learn the skills and tools needed to communicate your needs more successfully and strengthen your relationships.
You might also like...