Eating Disorders and Menopause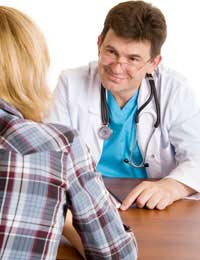 Even though most of the women who suffer from anorexia nervosa or bulimia are young women in their teens or twenties, eating disorders still exist in older adults. In particular, the fact that eating disorders in older women remain unrecognised is one reason that the health problems can be so significant in this cohort.
Eating Disorders in Older Women
When it comes to eating disorders, one of two issues may present in women after menopause. Some women may already have been dealing with eating disorders throughout their younger years. These issues may have persisted into menopause. Others may experience their first issues during the menopausal transition.
A recent study suggested that sometimes the issues faced by young women continue for years into menopause and beyond. Not only that, but older women may show more intense symptoms of depression and other mental health disorders.
Unhealthy Coping Practices
For a number of women, the major changes of menopause may put them in a vulnerable position where they first experience symptoms of an eating disorder during this time. Body composition changes and the frustration of hot flushes and other symptoms can mean that women struggle with self-esteem and a healthy way to cope. Instead, they use unhealthy practices such as starvation or purging after meals as a means to regain control over their life.
Eating Disorders Recurrence
For some women, they may have successfully treated their eating disorder only to find that life changes during menopause cause it to recur. For instance, divorce and parenthood challenges that often occur during these years can mean that an eating disorder emerges again.
Health Consequences of Eating Disorders
Women who suffer from eating disorders during and after the menopausal transition are often faced with more severe consequences. The lowered oestrogen levels leave bones at risk for any women. But for a women who is starving or purging her food, malnutrition and higher levels of the stress hormone cortisol can result in enormous bone loss.
The result is that a woman will be at an increased risk of suffering from osteoporosis. This condition refers to a thinning and weakening of the bones that leaves a person susceptible to fractures.
Finding Treatment
One study suggests that finding treatment for eating disorders can be much more challenging for a woman who has experienced menopause. There are few resources that specialise in the challenges for older women. In a survey, it was found that older women believed they had suffered from discrimination by eating disorder programmes.
If you think you are newly suffering from an eating disorder or recognise the symptoms of it recurring, it is important to see your family doctor for advice and a referral where appropriate. Left untreated, you risk significant damage to your bones, gut and immune system. Those who vomit after meals also risk major damage to their oral health and teeth.
Nutritional and Psychological Counselling
Finding a dietitian who specialises in eating disorders can be a first step, along with counselling and emotional support or guidance to manage the psychological issues in eating disorders. Menopause is a time of change but this change should be a healthy one that includes a nutritious, varied diet and non-harmful ways to cope with these changes. See your doctor to get help for eating disorder recovery and find ways to manage your body and stress.
You might also like...