Getting Better Sleep During Menopause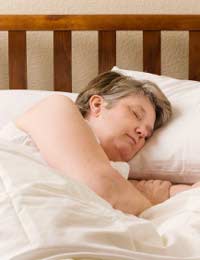 During the menopausal transition, a number of women find that they suffer from sleep problems, even when they never had any issues with sleep problems prior to this change of life. If you have previously struggled with sleep problems, then menopause can be a veritable nightmare as your sleep becomes even more troubled. You should not feel alone if you do find you struggle with insomnia, because it is a key symptom affecting women's health during menopause.
For most women, insomnia will show by their inability to sleep properly through the night. Some women find that they wake up very early in the morning and are unable to get back to sleep. This kind of awakening can actually happen when a woman suffers from a night sweat, which is another symptom of menopause. This awakening can even happen before a night sweat occurs. You might wake up with a pounding feeling in your chest and a feeling of anxiety, with no identifiable reason. For other women, however, there may be no specific reason they can pinpoint regarding their early awakenings.
Natural Remedies for Better Sleep
Anything from yoga to deep breathing exercises to acupuncture can help a woman if it relaxes her emotions and busy mind. For some women, they are so overwhelmed with the hectic aspects of each day that their insomnia occurs from psychological reasons rather than the physical symptoms of menopause. The goal here is to find a way to relax that works for your mind and body. Be open to trying different things in your quest for a better night's sleep.
Consider herbal teas such as chamomile as well, which is thought to be calming and relaxing. Make sure you reduce or eliminate stimulants such as caffeine. Melatonin is not available in Britain but if you can access it, the hormone is thought to naturally help improve sleep quality.
Other relaxing herbs are valerian root and kava kava. Nutritionists suggest eating a calcium rich food before bedtime to facilitate better sleep – the other benefit being that calcium protects your newly vulnerable bones due to the decrease in oestrogen that occurs during the menopausal transition.
Embrace Healthy Sleeping Habits
Basic, good sleeping habits are important to follow as well. This means avoiding alcohol, keeping the bedroom cool and dark and also scheduling bedtime for a reasonable hour. It can help to avoid doing any work or reading in the bedroom, which means limiting any non-sleep activity to other rooms in the home. Exercise is another approach for improving your sleep, although it's best not to do it near bedtime because in this case, it can keep you awake.
There are sleeping tablets – both over-the-counter and prescription strength medications – but these are best taken under the guidance and supervision of your doctor. These kinds of treatments are not recommended for long-term use, particularly because they can cause rebound effects such as increasing your insomnia.
Finally, some women may fare well by simply accepting that the menopausal transition is affecting their sleep and causing some level of sleep deprivation. Rather than worry about their sleep patterns, which can cause even more insomnia, it might help to use these late hours wisely. This can mean that you do relaxing things such as watching a favourite comedy on television or having a warm bath. As your hormone levels balance out, you may find that your sleeping problems manage to sort out on their own.
Better Sleep Means A Better Menopausal Transition
It can be easy to disregard poor sleep and sleep deprivation by focusing only on the other major symptoms of menopause, but don't be too hasty with ignoring your poor sleep quality.
If you don't get a good night's rest, your body and mind will only suffer the next day, which can exacerbate other menopausal symptoms and leave you ill-tempered and struggling to cope with your life. You can try some of the more natural methods of improving sleep but if the problem is a challenging one, it's wise to see your doctor.
You can also look at the website for the British Menopause Society (BMS). The BMS has some useful information on menopause and sleep problems. In this way, you can have access to all of the available treatments for insomnia, which means more time to focus on a positive transition through menopause.
You might also like...