Endometriosis and HRT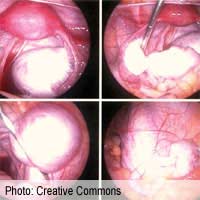 For women who suffer from endometriosis, they may eventually choose surgery to address the condition. Afterwards, Hormone Replacement Therapy (HRT) may be the right option. Finding out information on treatments and making the right decision can still be a stressful task, but by learning about what you can do, you can hopefully obtain the best relief possible.
What is Endometriosis?
Endometriosis refers to cell growth outside of the uterus. Your uterus is made up of specific cells but sometimes, women will experience a build-up of cells outside of the uterus. The cells might attach themselves to a woman's ovaries, Fallopian tubes or other areas.
Treating Endometriosis
These cells are not cancerous ones but they can still cause problems such as pain in the abdomen and extreme menstrual pain each month. For some women, they may choose to have a hysterectomy or oophorectomy although the procedures will not 'cure' endometriosis as such. They can, however, relieve symptoms.
Where HRT Fits Into the Picture
For women who have surgery, they should know about the risks and benefits of HRT to address the long-term effects of their operation. HRT can help to balance out their hormones and relieve the symptoms of the surgically induced menopause. It can also mean that stimulation of their endometriosis is reduced.
A Balancing Act
It can be quite a balancing act finding the best hormonal combination to use for keeping you healthy and reducing the symptoms of menopause and endometriosis. Oestrogen can stimulate endometrial growth while progesterone has an inhibiting effect. So, your treatment after surgery might need to add in progestagen to your oestrogen-based HRT.
Another thing to keep in mind are your doctor's recommendations as well because he or she will take into account your unique risk factors and health prior to giving advice in terms of HRT and if it's right for you. Some doctors will recommend at least a few months to half a year of no HRT immediately following surgery.
The purpose of this protocol is to wait and see if any tissue left over from the surgery can be removed over time as the body heals. In fact, some doctors will even prescribe progestagen on its own to really halt endometrial growth. The hormone can also provide a bit of relief for some of the menopausal symptoms as well.
Being Proactive in Health Care
You do need to be proactive when it comes to educating yourself and making a decision. Some doctors can be quite 'proud' about the idea that any tissue would remain following surgery, which hints that they didn't do a thorough, effective surgery. Others are honest and open about tissue that may remain. If you are suffering from the same types of pains after your surgery though, it could suggest that there is tissue remaining, in which case you would need to speak to a doctor about options for progestagen.
HRT and Other Choices
Don't forget that there are also methods available for treating menopause symptoms that don't involve HRT and the related risks. You need to remember as well that your bone health should be considered and a balanced, healthy diet along with calcium and cofactor supplementation will be important now.
Endometriosis is a painful condition and if you do end up having surgery to treat endometriosis, you will need to carefully consider if HRT is right for you.
You might also like...