Night Sweats and Menopause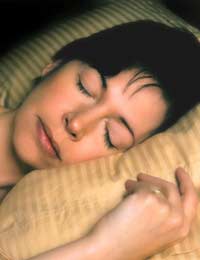 Night sweats are a characteristic symptom of menopause, and one that can leave women everywhere waking up drenched in sweat and struggling to get a good night's rest.
A night sweat is actually a hot flush that occurs at night. For some women, it can be particularly frustrating when they suffer from numerous hot flushes throughout the day, only to find they are then plagued with night sweats during their sleep. In fact, for some women their night sweats can be so severe that they leave bedding drenched with sweat.
Natural Ways To Handle Night Sweats
One of the best ways to handle menopause symptoms such as night sweats is to keep your bedroom quite cool, particularly during the night. Keep a fan nearby to turn on if you do wake up from a night sweat. Also, try to promote a deeper sleep by keeping your bedroom dark and quiet as well as partaking in healthy lifestyle factors such as avoiding caffeine and other stimulants.
Many people find that spicy foods raise their body temperature and get them sweating. If you react strongly to these foods, you might want to avoid them because they can trigger night sweats during your sleep.
There are other, basic measures that can help you to address night sweats and similar menopause symptoms. For instance, a glass of icy water beside the bed can be helpful to sip when you do wake up, which will cool you down and prevent dehydration from excessive sweating. Be sure to wear light, cotton bed clothing when you go to sleep. You should also avoid alcohol and anything similar that can interrupt a restful, deep night's sleep.
Don't forget that symptoms such as night sweats are not only the result of hormonal changes that occur during menopause, but they can also be triggered by your body's stress response. This means that reducing and avoiding stress in your life can be an important part of handling night sweats and improving women's health. In particular, try to spend an hour directly before bed where you enjoy a relaxing activity such as reading a good book or practicing deep breathing and relaxation exercises. Each woman is unique and you will need to experiment when searching for the best ways to keep stress at bay and reduce night sweats.
Hormone Replacement Therapy (HRT) For Women's Health
HRT still remains a controversial hormone therapy that has a number of benefits but also has risks. Studies have indicated that HRT can help with hot flushes, night sweats and other menopause symptoms but your medical and family history will have to be taken into account to assess your risks for taking HRT.
If more natural methods of treating night sweats are not successful and you are suffering from intense night sweats on a regular basis, you can speak to your doctor about whether or not HRT is right for your menopause symptoms.
Feeling Better In The Menopausal Transition
If you suffer from night sweats during your menopausal transition, you should know that you are not alone. Try to address this frustrating symptom of menopause by following some of the tips mentioned for keeping night sweats under control. You can also talk to your doctor about medication options and whether or not they are right for your menopause symptoms. Whatever choice you make, there are ways to better handle your night sweats and have a more pleasant transition through menopause.
You might also like...