Better Skin During Menopause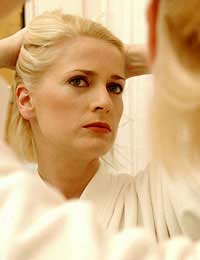 Just as you will probably notice many changes in your body during menopause, you may also notice changes in your skin, especially the skin on your face. The declining levels of oestrogen can mean that skin loses elasticity and is more prone to dryness and wrinkling.
The skin on your face is constantly exposed to the elements and if you haven't been caring for it up to this point, it may show the most severe signs of menopause. Others who have taken good care of their facial skin may find that their neck and hands – also frequently exposed to the elements – have been neglected and these begin to show changes during the menopausal transition.
Acne During Menopause
The shift in hormones during menopause can mean that women who never suffered from acne now begin to do so – as others can find that their normally acne-prone skin starts to clear up. It can be frustrating to deal with acne during these years, especially as you try to balance the dryness from declining oestrogen levels.
Women who suffer from acne may want to choose products aimed at combination skin, as these can help you battle dryness while simultaneously preventing blemishes. Gentle, occasional exfoliation can help unclog pores and reduce acne as well. Unfortunately, these types of hormonal breakouts can be particularly challenging to deal with, so you may find that having some concealing cream is necessary to keep you feeling your best.
How to Handle Skin Dryness
Skin dryness is one of the most common complaints for menopausal women. Reduced elasticity, skin sagging and wrinkling are frequent challenges during the menopausal transition. In fact, women will probably begin to notice skin changes in their 40s, years before they experience the major signs of menopause.
This occurs because even in your 40s, hormone levels shift and skin doesn't retain the same elasticity and moisture that it had in your younger years. For women who solely have dryness but otherwise normal skin, then a simple moisturizer will work well. Slather it on in the morning and evening, while also ensuring it has an SPF to protect you from the sun.
Using HRT to Improve Skin Condition
Some women may choose to take hormone replacement therapy (HRT), which can help with skin dryness and elasticity. However, there are a number of risks with HRT and any improvement in skin should really be viewed as a positive side-effect of the treatment rather than the basis for taking HRT. Your doctor can help you decide if HRT is right for you.
Healthy Skin for Life
Part of ageing is accepting that there are many natural changes that will occur in your skin and body. While you can take measures to make your skin more comfortable and healthy, it's also important to be realistic in your expectations. Mature skin is bound to show some signs of 'wisdom' so to speak, and all of those years of laughter and emotion aren't going to be wiped out by a miracle product.
If you wear a suitable sunscreen, maintain a diet that supports healthy skin and use the right products for mature skin needs so that you can enjoy an attractive complexion. While your skin may show its age, it can do so beautifully with the right care.
You might also like...