Predicting Menopause from the Womb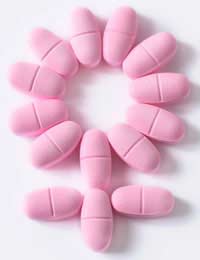 Identifying when menopause occurs is an important area of research because it can help women make more informed family planning decisions. But just how early can we start to make these predictions?
One recent study suggests that it could be as early as in the womb. It is thought that what happens in the womb in terms of a baby's exposure to outside influences could have a small influence on when a woman experiences menopause.
Effects of Synthetic Oestrogen
Researchers conducted a study of more than twenty thousand middle-aged women. They discovered that exposure inside the womb to a specific type of synthetic oestrogen, along with a number of characteristics seen in the mother, affected the timing of menopause.
Ovaries and Diminishing Eggs
Many women are not aware but a woman actually has the highest number of eggs when she is in the womb. There are approximately five million at twenty-four weeks gestation but this number goes down significantly to two million at birth. It then keeps declining until menopause, at which point she has approximately one thousand left until her periods stop and she is no longer fertile.
Given these changes, researchers were curious if something might be happening during the time in the womb or if the birthing itself may even influence the number of eggs a female has when she is born. They wondered if this might then later influence the timing of menopause.
Exposure to Hormones
Overall, most women reach menopause around the age of fifty-one while others reach it in their 40s or even later in their 50s. In this study, researchers learned that approximately half of the participants had reached menopause before the age of fifty-two. They also found that within this group of women, there were some common factors that seemed to influence when they had reached menopause.
They did take into account other information that could influence the timing, such as the education level or race of the woman. But even after doing so, they still found that exposure to the hormone had the biggest impact on the age at which a woman reached menopause. It seemed to increase the rate at which she lost the last of her eggs by approximately a year.
Prescribed Hormones During Pregnancy
One question many people may have is how this exposure occurred. At that time – decades in the past – it was prescribed to women who were pregnant. It was believed that it could help reduce a woman's risk of miscarriage and also reduce any nausea she was experiencing with her pregnancy.
Improving Our Ability to Predict Menopause
Even though the differences in the onset of menopause weren't big ones, it is still an intriguing area of research. This is due to the fact that we have not typically focused on how something that happens in the womb could impact a natural biological function approximately fifty years later. In this sense, it is a significant surprise but opens to the door to investigate how any other events during this time might influence the timing of menopause.
You might also like...