Phytoeostrogens for Menopause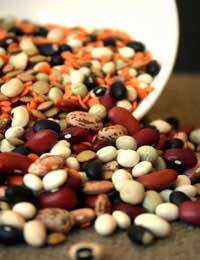 With the onset of menopause, you may have begun to read about the different treatments available for menopause symptoms. One treatment involving hormones that has been quite widely publicised is the use of polyphenols – or phyto-oestrogens. These substances are naturally occurring ones in plants. Phyto-oestrogens from plants have a weak effect on the body's hormones that is similar to oestrogen. However, the word 'weak' is paramount because the difference in strength is enormous in comparison with the oestrogen found in Hormone Replacement Therapy (HRT), for instance.
In places such as Japan, the diet tends to be quite rich in soya products, which means that women have a relatively high intake of phyto-oestrogens in comparison with the standard diet in the United Kingdom (UK). Studies suggest that menopause symptoms are less common in Japan, which may or may not be related to their hormones and this high intake of phyto-oestrogens.
Where can you Obtain Phyto-oestrogens/Polyphenols?
There are many food sources of phyto-oestrogens, which include:
Soya beans
Legumes
Pulses
Linseed
You might wish to start including more of these food choices in your diet. Whether they ultimately benefit your menopause symptoms or not, at the very least they are considered healthy and beneficial foodstuffs to include in your diet several times each week.
Benefits of Phyto-oestrogens for Women's Health
The benefits of phyto-oestrogens are still inconclusive. There have been a number of studies now but the results and reviews are very mixed. One suggestion is that phyto-oestrogens are linked to lower levels of certain cancers such as breast cancer. They may also help to protect against heart disease as well. In studies where women in the menopausal transition followed a specific diet that was high in phyto-oestrogens, results did show that menopause symptoms declined. It is also thought that there may be benefits to bone, which is particularly important during menopause due to the loss of bone-protective effects of oestrogen.
Women's Health Risks of Phyto-oestrogens
There are some risks associated with a high intake of phyto-oestrogens, although the overall risk profile is still quite low, especially when compared to treatments such as HRT. Due to the oestrogen-like impact of phyto-oestrogens, there is the possibility that a woman could have a higher risk of womb cancer. However, Japan has a lower incidence of this cancer compared to women from the UK, which means that further studies would be needed to confirm the benefits and risks of a diet rich in phyto-oestrogens for treating menopause symptoms.
Choosing Phyto-oestrogens for Menopause Symptoms
As with any treatment during menopause, it is a uniquely personal and individual choice how you wish to proceed with treating your menopause symptoms. A good starting point is to speak to your doctor about all of the different treatment options available. Some women are healthy and happy with HRT while others prefer a treatment with a lower profile of side-effects and risks.
You may also decide to take HRT short-term – given that risks are more significant when taken long-term – and then, choose to use phyto-oestrogens for long-term treatment of any menopause symptoms that persist in postmenopause. Those who do take phyto-oestrogens may also find that they experience the beneficial effects of incorporating the healthy foods – that are rich in phyto-oestrogens – into their diet. Whatever choice you make regarding phyto-oestrogens, try to ensure that it is an educated and informed one, which can allow you to successfully treat your menopause symptoms and regain your women's health.
You might also like...