Early Days of Menopause and What to Expect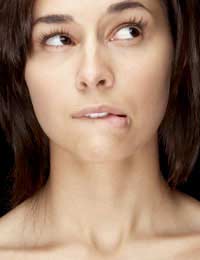 Most women will reach menopause somewhere around the average age of fifty-one. However, there is still enormous variance in how and when a woman will experience the menopausal transition. Still, whether you reach menopause sooner or later than most women, you are probably still interested to know what you can expect in the early days of menopause. In this way, you won't be taken by surprise when your body begins to change and you experience the physical, mental and emotional symptoms of menopause such as irregular periods and hot flushes.
The early days of menopause can actually occur as long as a decade or more before you have your final menstrual period, which signifies that you have reached menopause. Although menopause can more easily be identified, it can be far more difficult to identify the early days of menopause. Fortunately, there are a number of signs and symptoms that will show you are beginning menopause. There are also medical diagnostic tests to help you learn if menopause is on its way.
Noticing the First Signs and Symptoms of the Menopausal Transition
For some women, it can be as early as their thirties that they notice changes to their menstrual cycle each month. They may find that periods are heavier or lighter. In particular, if you have always had a very predictable and consistent menstrual cycle and you notice this has recently changed, it could be a sign that you are entering the menopausal transition. Your periods may also occur more or less frequently than they did before. These irregular periods can be your first indication that menopause is on its way.
Premenstrual Symptoms of Menopause
In the very early days of menopause, some women may find subtle changes to their premenstrual symptoms. They may experience more cramping than usual or heavier bleeding. They may also find that they are plagued by headaches as well as mood swings, sadness and other emotional symptoms. They may begin to notice a bit of vaginal dryness, which can make sexual intercourse uncomfortable.
Weight Changes in the Early Days of Menopause
One change women might notice – although it is difficult to directly pinpoint the menopausal transition as a cause – is that they are gaining weight more easily than usual. Not only that, but this weight gain may be mostly around your midsection and you might find that it is more difficult to lose the weight than your previous attempts at weight loss.
Seeing Your Doctor
If you are in your thirties or forties and have noticed some of the early signs and symptoms of menopause, it's important to make an appointment to see your doctor. While you could be entering the menopausal transition, your symptoms and signs might also represent another health condition. For instance, spotting between periods can mean that you are in the early days of menopause but it could also be a sign of uterine cancer. Your doctor can measure your oestrogen levels through a straightforward blood test, which can be repeated in several months to see if there has been any change to your oestrogen levels.
Once menopause fully begins to approach, you will usually notice other, more prominent and clear symptoms and signs of menopause. Hot flushes, night sweats and other symptoms will emerge as your body changes and your hormone levels decline. You should also keep in mind that you can still become pregnant during the perimenopause phase, which occurs prior to menopause. It is not until twelve months have passed since your last menstrual period that you will be considered infertile and officially in postmenopause.
Keeping Aware of Your Changing Body
Each woman can expect to reach menopause, whether it is around the average age of fifty-one or if it occurs sooner or later than most women. By seeing your doctor regularly for physical examinations and discussions about any changes to your menstrual cycle, you can alert your doctor to any early symptoms of menopause that you believe you are experiencing. In turn, you can choose the healthiest and best approach to menopause that works for you.
You might also like...