What is Reproductive Competition?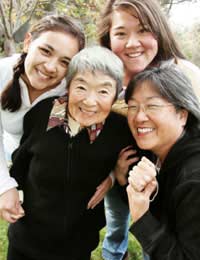 Have you ever wondered why some animal species don't undergo menopause even though we do? Scientists have long been curious to understand what it is about menopause that makes it such a selective phenomenon. Now though, we may be one step closer to finding out what makes it only occur in a small number of species.
The Science of Adaptation
In a recent study, researchers have found that menopause is actually a form of adaptation that reduces reproductive competition. This reproductive competition is between numerous generations in one family.
If you think about the fact that women still continue to live beyond menopause for many decades, you can see the mystery for researchers. Without the value of reproduction, one might wonder just why evolution favours this continued survival.
Some may say we should consider that modern medicine is a key reason why this survival successfully continues. Yet if we look at communities in the world that are isolated and without this access, women still survive for decades beyond menopause.
Looking at Traditional Theories About Menopause
Until now, the main theory has been that women must be surviving because they are important to the survival of their children, which then leads to more offspring in each generation. But this benefit is small and it still doesn't completely explain why it is that women stop breeding at all.
Why Women Experience Menopause
The newest study has quite a different theory. As mentioned, it involves reproductive competition. Basically, it means that when you reach menopause, it is an adaptation to minimise competition with your own offspring. It reduces the overlap within a single family.
Using Family Resources for Survival
If you think about the average age for having a first baby, it is typically in the earlier twenties for women, with the late end for having a child being closer to the late forties. In this way, a woman ceases to breed when the next generation begins breeding. This way, the older woman stops competing with the younger woman for family resources needed for survival.
A Better Understanding of Menopause
This new study really helps our understanding of how menopause has evolved over the years. While it will be interesting to see how further studies support its findings, the research is considered robust. This is mainly because even when we look at the fact there are such significant differences in wealth and access to medicine around the world, women everywhere still experience menopause.
It means that menopause is more likely stemming from something in our genes and relates to evolution rather than any medical advances. It also helps us understand why women still usually stop having kids approximately a decade before they reach menopause.
The Future of Menopause Research
Perhaps another interesting aspect is that this finding correlates with cultural norms in some countries. In places such as Asia, for instance, there are social laws where women are meant to stop having kids upon the birth of their first grandchild.
Also, researchers hope that these findings may one day tell us why some women experience reproductive failure at a younger than normal age. Or alternately, we may find out why some women have lower fertility than others.
You might also like...